The 47 Best Black Friday Deals
What's better than getting the perfect gift for everyone on your list? Getting those gifts at an incredible deal, of course!
There are so many amazing deals for Black Friday 2019 that it's hard to say which stores are the best…
Lucky for you, we've rounded up a few stores who have amazing offers and then highlighted some of the very best to help you start your research.
Here we go!
Best Buy

With screamin' deals on all things electronic, Best Buy is practically a must-visit on Black Friday.
You can get $350 off the 75" Samsung LED 4K Smart TV with HDR - that's one heck of a TV for just $749.99!
If it's new iPads you're in the market for, you can save up to $100 off on select models.
If you're going a different route and it's the powerful Dyson Cyclone V10 you're wishing for, you can save $200. Talk about a savings!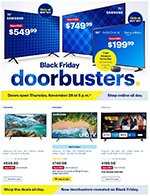 Click here to see all the Best Buy Black Friday Deals!
Target

One of the most-wished for items this year is the Nintendo Switch - and Target has them!
You can snag a classic Nintendo Switch (as opposed to the Switch Lite) AND a free copy of Mario Kart 8 Deluxe for just $299!
Not into the video games? That's ok - Target also has an amazing deal on Instant Pots (just $64.95 - that's more than 30% off!).
Plus don't miss the great doorbuster deal on Fitbits - it's $50 off on the Fitbit Versa2 smartwatch or $30 off on the sporty Fitbit Inspire HR.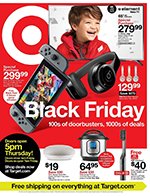 Click here to see all the Target Black Friday Deals!
HP

Whether you're a student, a businessperson, or a hardcore gamer, HP has got some stunning deals on laptops just for you!
First up is the HP 15t - this laptop is just $499 - marked down from $1349!
Want a laptop to fit any budget? The HP 15z is under $300 this Black Friday. Normally $519, it's now $279.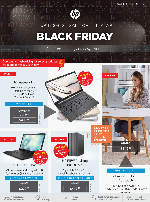 Click here to see all the HP Black Friday Deals!
Kohl's

You might want to skip dessert and head straight to Kohl's. Their doorbusters start at 5pm Thanksgiving Day and the deals are really good!
With sales like the Playstation 4 Slim 1TB for just $199 (that's $100 off!), Beats By Dre Powerbeats Pro for just $199 (normally $249), and even the Canon EOS Rebel T6 for just $399 (down from $749), you've got to get while the getting is good.
Best of all, you can stack $15 in Kohl's cash for every $50 you spend for even more savings!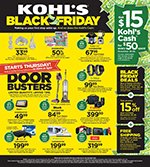 Click here to see all the Kohl's Black Friday Deals!
Walmart

From toys to TVs, Walmart has it all this Black Friday - and just about all of it is on sale!
Score deals on the hottest toys like $50 off on the Oculus Go or $59 off the Hover-1 All-Star Hoverboard.
They're not slacking in the television department either - they're offering a 65" Phillips 4K UltraHD Smart TV for just $278.
Get ready to shop early - if you show up at 4pm on Thursday, you can even enjoy complimentary coffee, cocoa, and snacks while you shop!
Click here to see all the Walmart Black Friday Deals!
Macy's

If you're in the market for homegoods, Macy's has got covered and best of all?
Many of their doorbusters are actually FREE once you use their mail in rebates. That's right - you can get plush throws, Luminarc 4 pc. glassware sets, a 1.5Qt Bella slow cooker, and much more - for the price of $0.
Oh, and while you're there, you can get a pair of real diamond earrings for just $29.99 if you spend $50 or more.
With freebies and diamonds in the mix, these deals are sure to go fast!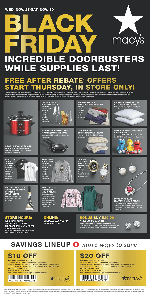 Click here to see all the Macy's Black Friday Deals!
Sears

Black Friday deals at Sears will help you stay cozy all winter long.
They're offering 60% off sleepwear for the whole family and women's fleece pants for just $5!
You can also get men's and women's jeans for $9.99, 14k gold jewelry at 80% off, and so much more.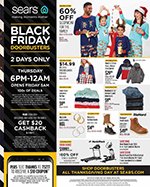 Click here to see all the Sears Black Friday Deals!
Old Navy

Why wait for one day when you can get great deals all week long? Old Navy has crazy low prices from 11/20 on - they've got 50% off jeans, sweaters, and outerwear and that's just getting your warmed up.
Old Navy has 50% off EVERYTHING from 11/27 to 11/29.
Many items will be just $5, and their famous cozy socks will be available for $1!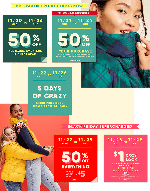 Click here to see all the Old Navy Black Friday Deals!
Bed Bath & Beyond

No matter what you want from Bed Bath and Beyond, it's on sale on Black Friday. They're giving an in-store coupon for 25% off your entire purchase! They've got sales on top of that discount, too.
If it's the Shark Ion robot vacuum, you're looking for, you can get it for a stunningly low $187.49.
In the mood for coffee? You can score a new Keurig for just $59.99.
If it's a SodaStream Sparkling Water Maker you're wishing for, they've got that, too - and it's just $52.49.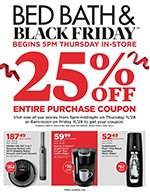 Click here to see all the Bed Bath & Beyond Black Friday Deals!
JCPenney

If someone on your list likes the sparkly stuff, then head to JCPenney this Black Friday.
Starting Wednesday at jcp.com or Thursday at 2pm in store, they're offering up to an amazing 80% off on fine jewelry!
It's not just jewelry they've got great prices on, either. You can grab the ever popular Cooks 5.5Qt Air Fryer at $29.99 (instead of the normal $120 price) or a whole host of small kitchen electrics at just $7.99!
They're definitely incentivizing shopping in-store - on top of all these discounts, JCPenney is giving shoppers coupons worth $10, $100, or even $500 off their purchase!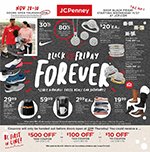 Click here to see all the JCPenney Black Friday Deals!
Lowe's

This year, Lowe's is helping you deck the halls with an eye for savings.
For Black Friday, they're offering GE 100-count LED Christmas lights for just $2.98, and 1Qt Poinsettia plants for fifty cents!
They're also got jaw-dropping deals on all the appliances and tools you could possibly need. How about a stainless steel Frigidaire refrigerator for just $799 (that's $500 off!) or a LG washer/dryer pair for $599 apiece - that's a $1300 discount!
In addition to these rock bottom prices, Lowe's is also giving away a $500 gift card to one lucky winner in each store, so get there early for your chance to win.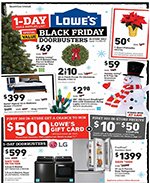 Click here to see all the Lowe's Black Friday Deals!
With all of these amazing deals available, your Black Friday should be both fruitful and frugal! Where will you head first? Which of these deals are at the top of your must-have list?

Happy shopping!